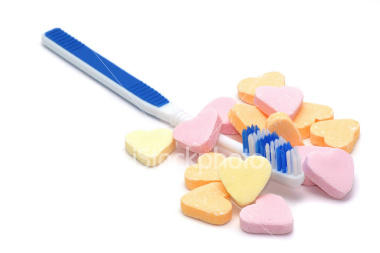 With February being Heart Month, it is important to acknowledge an unsuspected connection to heart disease, your mouth. Individuals who have gum disease are TWO times more likely to develop some type of heart disease than people who don't. Gum disease occurs when plaque gets under the gum line and bacteria begin to grow. The bacteria can get into the blood stream, bring it to the heart and increase the chances of heart disease. Gum disease is more dangerous than cavities and other dental problems because there is usually no pain until it is severe.
Some prevention tips:
· Proper brushing and flossing everyday- brushing toward the gums along with circular motions.
· Remember plaque forms thicker the closer it is to the gum line.
· An early warning sign can be bleeding during flossing and brushing. If this does suddenly occur and continues it is important to visit your dentist.
· Regular check-ups at the dentist, twice a year
· If gum disease does develop, take care of the symptoms and causes immediately.
To learn more about Simply Dentistry call (480) 429-9700 or visit the office at 7552 E. Camelback Road Scottsdale, Ariz. 85251.