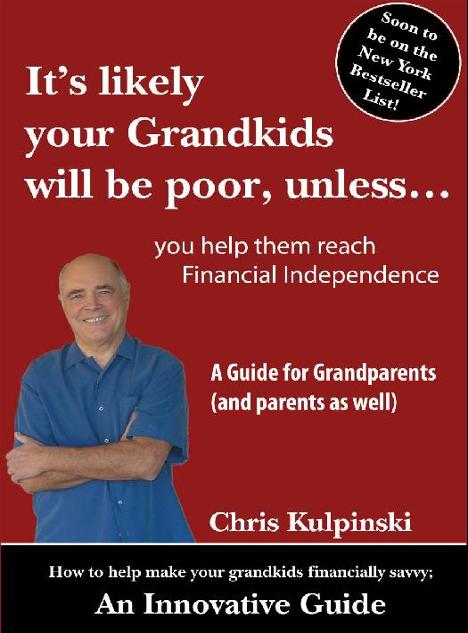 It's Likely Your Grandchildren Will Be Poor Unless
Chris Kulpinski, a Scottsdale grandfather and retired businessman boldly states "It's Likely Your Grandkids Will Be Poor, Unless…"
His newly released book is about the economic health and well-being of our children and grandchildren in a very rapidly changing global environment, where there are no more guarantees – no guarantees of a good job, no guarantee of a pension, health insurance, Medicare or Social Security. The kids will be responsible for their entire financial well-being.
Kids graduating from college, aside from owing tuition, are, in many cases, starting life in debt because they were not taught good money management skills. Companies are beginning to look at the FICO scores of these potential employees and are refusing them jobs. The question in the employers mind is "If they can't handle their own finances, how can I expect them to handle mine?" Today, no education is complete without a financial education.
Without a financial education our kids will end up as the working poor, mired in bad debt," says Chris Kulpinski. "Grandparents are the perfect audience for this book, they are in the unique position to spearhead their grandchildren's financial education through love, education and life experiences." 
Chris's advice and commentary from his book are essential in this trying economy because he…

Helps adults recognize the importance of being involved in the younger generation's financial education
Provides adults with proven methods of guiding their children and grandchildren in their quest to become financially savvy
Provides guidance in helping kids think as an investor; to have their money work for them, rather than they work for their money
Provides insight into how to get the kids enthused about learning about money
Provides multiple ideas for investing small sums of money
Provides information on sources of funds for investment
Provides ideas for motivating kids that live a great distance away from their grandparents
Chris Kulpinski is not a financial guru or a real estate tycoon. He has made mistakes in his investments, but mostly he has made some money. He has no axe to grind, other than the conviction that the financial well being of our youth is in jeopardy.
Chris has spent his adult life making a living in the baking industry. He was successful, because his retirement is financially stress-free. Not knowing how not to work, after retirement, he had a retail computer store for 4 years and was a tour guide for 5 years. However, during that time period since retirement, he has also bicycled across the United States via Canada, hiked to the bottom of the Grand Canyon numerous times, vacationed in Mexico and Europe, traveled to the southern Pacific and hiked the trail to Machu Picchu in Peru. He has fished for Marlin in the Sea of Cortez and vacationed with his kids and their families throughout the USA and Mexico. Aside from the vacations, everything mentioned above, was done with at least one of his kids as traveling companions.
Buy his book or learn more here: http://www.moneysmartgrandkids.com/