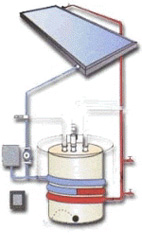 Solar Water Heaters have become the most cost effective way to reduce the homes electrical consumption. With the large government incentives and utility rebates though, Solar Water Heaters are affordable for everyone.
· Arizona's 300 plus days of sun annually make Solar a natural means to providing hot water all year long.
· The Donley Solar Water Heating System is an active closed-loop system that provides their customers with the latest in solar technology from SunEarth Inc., a leader in today's solar industry.
· People with electric water heaters who invest in a Solar Water Heaters in today's market save from $250 to $350 annually in electric costs.
· The system pays for itself in less than five years and you realize the annual savings for the life of the system.
· The investment upfront is made easier with large Federal and State tax credits and utility (APS and SRP) rebates that can account for up to 80% of the cost a standard installation.
· This makes what may seem like a large price tag up front, a more realistic possibility for most people.
· Between the decrease in money spent on electricity and the positive impact on the environment, the Solar Water Heaters prove to help the two main issues that are being faced by society today.
For more information about Donley Service Center's Solar Water Heaters, go online at www.donleyservice.com or call today at (602) 997-6115.