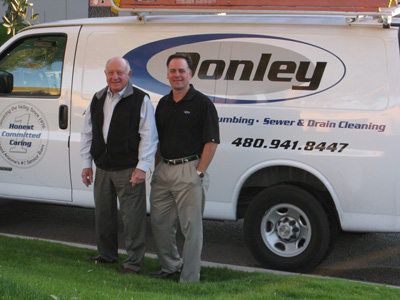 Donley Service Center of Phoenix is the "Best Contractor to Work for" an honor from The Air Conditioning, Heating, Refrigeration NEWS, the premier publication of the HVACR industry. A feature on the company appeared in the Jan. 31st issue of the magazine, as well as on its website.
HVACR (heating, ventilation, air conditioning, refrigeration) contractors who rise to the top of this competition have shown their ability to attract and retain top employees, by providing ample training, steady work hours, trust, benefits, and a sense of community and even family responsibility.
Like many others who work in HVACR, James Donley, founder and chairman of Donley Service Center, and president Mike Donley, have both spent much of their careers focusing on building employee and customer relationships that are based on trust and respect. Taking that trust and respect to the next level of uncompromising integrity, however, sets James and Mike apart as The NEWS' contest winners in the Western region.
"We honor these companies because they tend to go above and beyond the call of duty when it comes to their employees," said Barb Checket-Hanks, Service and Maintenance Editor for the publication and the contest's creator. "They create workplace environments that people are truly glad to go to."
Winning in the annual contest has become a status symbol among HVACR contractors, and it helps them attract "the best of the best" among the pool of qualified HVACR technicians.
"The secret to success in our company, and really in any organization or team, is that it is all built around the right people," says Mike Donley, President of Donley Service Center. "We spend an awful lot of time finding the right people."
For more information on the contest, visit www.achrnews.com. For more information on Donley Service Center, go here.