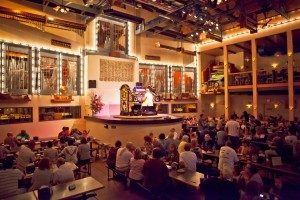 I have a fantastic idea for you and your family this Easter and Mother's Day. Take your family to a place that everyone will like! Enjoy a relaxing pizza and salad lunch and music on the Mighty Wurlitzer at Organ Stop Pizza. This is the first year the restaurant has opened their doors to the public for a daytime luncheon event during these special holidays.
Easter Musical Lunch
Sunday April 20th, 2014
11:30 am – 1:00 pm
Mother's Day Musical Lunch
Sunday May 11th, 2014
11:30 am – 1:00 pm
—-
All you can eat pizza buffet and salad
Adults $7.75 (including tax)
Kids 3-9 $6.25 (including tax)
Non-Alcoholic and Alcoholic beverages available for additional charge
Tickets are available online at organstoppizza.com or you can pick them up in the restaurant gift shop.
Organ Stop Pizza
1149 E. Southern Ave., Mesa (Southern/Stapley)
MESA, AZ – Organ Stop Pizza in Mesa is celebrating 42 years in the Valley. Unlike other kid-centric pizza joints, Organ StopPizza is fun for all ages.
"Kids enjoy it, mom and dad enjoy it, grandma and grandpa enjoy it," said co-owner Jack Barz.
That's because the star of the show here is the nation's largest Wurlitzer pipe organ, built for the Denver Theatre and installed in 1927. "It's a piece of American history," Barz said.
After "talkies" took over the cinema and the Great Depression hit, the mighty Wurlitzer was rarely heard. It was damaged in a fire, but the original owners of Organ Stop Pizza bought it in 1975 and restored it for their second location in Mesa. (The first location opened in 1972 at the corner of Seventh Street and Missouri Avenue with an organ from Grauman's Hollywood Egyptian Theater.)
Organ Stop Pizza moved to its current location at Stapley Drive and Southern Avenue in 1995. It attracts hundreds of thousands of patrons each year with its theatrical performances complete with dancing cat puppets, disco balls and bubbles. Songs range from classical music to Disney favorites to pop and rock hits.
Though pizza-and-pipes restaurants were popular from the 1970s through the 1980s nationwide, Organ Stop Pizza is one of only two such concepts left in the United States. The instrument itself is so complex there are only about a dozen organists in the country who can play it, Barz noted. It has nearly 6,000 pipes and more than 1,000 buttons, knobs and switches. Two award-winning house musicians are at the helm, with a relief organist who flies in from Portland, Ore., when one needs time off. The organ undergoes six to eight hours of maintenance every Monday to keep it in tip-top shape.
Though known as primarily a pizza parlor, Organ Stop Pizza also serves up piping hot pastas, sandwiches, and all-American appetizers, and features a salad bar and Blue Bell ice cream too. Soda, beer and wine are available to wash it all down.
Only cash and checks are accepted; an ATM is located in the lobby. Group reservations are taken for parties of 20 or more, and OrganStop Pizza is available during daytime hours for private parties of at least 100 and semi-private parties of 50 or more, depending on availability.
www.organstoppizza.com
www.facebook.com/organstoppizza
www.twitter.com/organstoppizza
www.instagram.com/organstoppizza