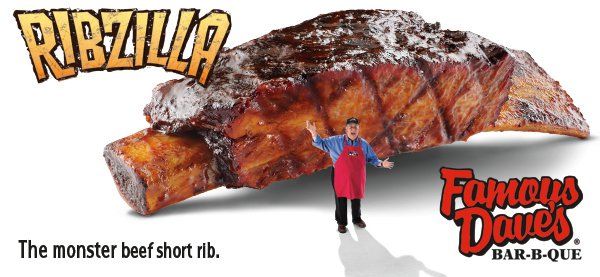 Famous Dave's in the Valley will offer a Beef Short Rib called the "Ribzilla" as a special feature on the menu beginning October 4 and ending November 21.
Dr. Pepper Glazed Beef Short Rib Platter: Beef Short Rib, 2 sides of choice, corn on the cob, corn muffin. $18.99
Dr. Pepper Glazed Beef Short Rib Sandwich: Sandwich with 1 side. $10.99
Wedge Salad with muffin: Lettuce wedge, Bleu Cheese Crumbles, grape tomatoes, Jalapeño bacon, Bleu cheese dressing and a muffin. $5.99
Cherry Cobbler: Served warm with vanilla ice cream. $5.99
LOCATIONS: Valley Famous Dave's in Chandler at 3250 West Frye Road; Peoria at 16148 North 83rd Avenue; Mesa Riverview in Mesa at 1011 Dobson Road and in Gilbert at SanTan Village at 2206 East Williams Field Road. www.famousdavesbbq.com.