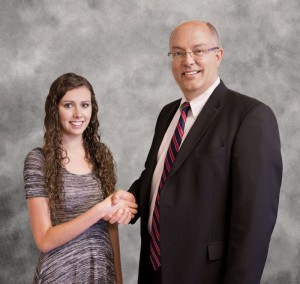 Arizona Students Receive Scholarships from Local Back and Spine Specialists
Sonoran Spine Center Honors Two Students for Overcoming Physical Adversity,
Achieving Academic Excellence
(June 16, 2014 – Phoenix, Ariz.) – In honor of National Scoliosis Awareness Month in June, the physicians at Sonoran Spine Center and the Sonoran Spine Research and Education Foundation (SSREF) are honoring two young ladies with college scholarships.
Giselle Arnold from Mesa and Marie Ricks of Gilbert received this year's SSREF scholarships. Both recipients have dealt with back and spine problems since they were very young. Arnold underwent a spinal fusion in 2009 to correct idiopathic scoliosis. At the time of surgery she had a 50⁰ curve in her spine. Ricks has learned to deal with her spinal curvature challenges through a focused lifestyle which incorporates healthy eating, regular exercise like running, walking, swimming and hiking and an active lifestyle. Both Ricks and Arnold will be attending Arizona State University (ASU) in the fall; Ricks for a Master's Degree in Counseling and Arnold for an undergraduate degree in Biochemistry.
The 2014-15 scholarship recipients were chosen based on several different criteria including; the way their lives had been impacted by a spinal deformity, how they were able to live a productive and functional life in spite of their physical challenges, the student's overall grade point average and their ability to impact the community through volunteer services.
"Our interest in patients with spinal disorders and spinal deformity doesn't end with successful treatment," said Dr. Dennis Crandall, Sonoran Spine Center founder. "Our goal is to help assure our patients have full and functional lives. That is why the SSREF established this scholarship fund. We want to assist students who are Arizona residents, have undergone surgery for, or overcome a spinal deformity and who want to go to college at one of our top state universities."
Opened in 1999, Sonoran Spine Center includes a group of cutting-edge, innovative physicians and surgeons specializing in all areas of the back and spine. Their objective is to help adults and children with spinal curvatures, scoliosis, work injuries, slipped vertebra and disc herniations, as well as many other conditions. Sonoran Spine Center physicians are known for their ability to assess and treat very difficult and complex spine problems. A significant portion of their patients, upwards of 90%, are able to avoid surgical intervention thanks to conservative care like physical medication and rehabilitation (PM&R) or physical therapy (PT.)
For more information about the services offered at the six Sonoran Spine Centers or to schedule an appointment with one of the highly-qualified physicians on staff, visit sonoranspine. For media inquiries contact Charlotte Shaff, The Media Push, at 
(602) 418-8534
 or
charlotte@themediapush.com
.