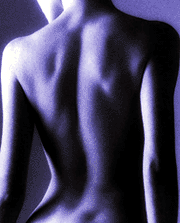 MAY is National Osteoporosis Awareness and Prevention Month. The specialists at Sonoran Spine Center can help YOU! 
Renowned Phoenix Spine and Back Specialists Focus on Well-being
Sonoran Spine Center helps Arizona residents stay healthy and pain-free this spring
(April 2012 – Phoenix, AZ) Valley residents looking for help with any back, spine or arthritis issues are fortunate to have several of the Southwest's leading spine and back specialists available at SonoranSpine Centers.
Founded in 1999 by Dr. Dennis Crandall, Sonoran Spine Center includes a group of cutting-edge, innovative physicians and surgeons specializing in all areas of the back and spine. Helping adult and children with spinal curvatures, scoliosis, work injuries, slipped vertebra and disc herniations, as well as many other conditions, these doctors have studied new methods to improve treatment through both surgical and non-surgical techniques.
"At Sonoran Spine Center we understand the importance of providing high-quality patient care and promoting a positive patient experience," said Dr. Crandall. "This is what differentiates us from other practices and allows us to maintain quality staff members which in turn boosts patient satisfaction and promotes better treatment outcomes overall."
Currently, the practice has five top spinal physicians including:
Dr. Crandall, recipient of the Phoenix Magazine TOP DOC award in Spine health for four consecutive years, is well-known for his back deformity surgery and research. As founder of the SonoranSpine Research and Education Foundation, he is dedicated to research, outcomes and studies about golf and work-related injuries. Dr. Crandall is the Spine Chief of the Banner Orthopedic Residency Program and is a spine consultant for professional sports teams in Arizona including; the Phoenix Suns, Arizona Diamondbacks and Arizona State University. 
Dr. Chang, was recently a guest-expert on the popular-syndicated television program, The Doctors. Here he spoke about his work with scoliosis patients. He is known for performing successful surgeries that other doctors shy away from. Dr. Chang is fellowship trained in spine deformity surgery.
Dr. Crowder, is the only spine surgeon in Arizona using a new robotic method. He has a passion for educating and helping patients with osteoporosis. 
Dr. Datta, is a surgeon and expert in all aspects of spine care. He is especially interested in wellness and fitness and the role these lifestyle choices make in supporting good spine health. 

Dr. Mosalliaie, focuses on conservative care, pain management, spinal injections, electrodiagnostics and musculoskeletal disorders. 
Sonoran Spine Centers is also proud to have research specialist Jan Revella, RN on staff. Jan has more than 30 years of orthopedic experience and is a committed educator on arthritis, osteoporosis andspine issues. She has spoken throughout Arizona about living and feeling better with arthritis and she is author and presenter of the popular book and DVD series, "Feeling Good with Arthritis." 
Sonoran Spine Centers has served children and adults with spine and back problems throughout the Valley for more than 12 years. Specializing in areas include the simplest problems to the most complex, from the easiest to the most difficult and caring for patients of all ages. Sonoran Spine Center provides comprehensive conservative care as well as spinal surgery options. For more information on the services provided or to schedule an appointment to speak with one of the highly-qualified physicians, visit www.sonoranspine.com and please LIKE us on Facebook.