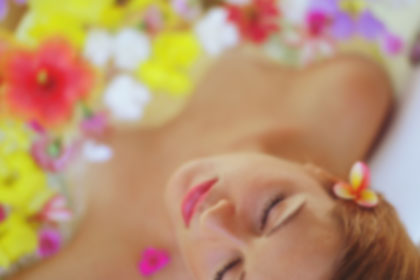 As three-digit temperatures descend upon the Valley of the Sun, relaxation destinations are gearing up to soothe overheated minds and bodies. Now in its eighth consecutive year, the award-winning Summer Spaaah Series events return to cool the masses with eight spectacular events and a message of rediscovery.
This year, each event will incorporate ways for guests to rediscover the life-changing spa destinations in their own backyards and the inner peace that comes from giving themselves the gift of spa as well as the mission of the benefiting charity, Fresh Start Women's Foundation. The 2013 events will feature a series of health and wellness talks along with the fun, VIP atmosphere that has put the Series on the map as premier summer must-do.
"Each summer opens the door for us to educate our guests on the many benefits that come from the spa experience," says Lisa Kasanicky, founder of Arizona Spa Girls and producer of the annual events. "All the participating spas offer a unique opportunity to rediscover something about yourself. The idea of rediscovery came from the participation of the esteemed Phoenician Resort this year, where the idea of Arizona Spa Girls was born more than a decade ago."
This season features a special kick-off celebration at Fresh Start Women's Foundation in Phoenix on May 3 from 3 p.m. to 6:30 p.m. In celebration of the funds raised for this empowering women's center, the open house style event is free to the public and media by RSVP. The evening will feature refreshments, tours and raffle prizes. The 2012 Spaaah Series alone raised more than $11,000, and throughout the years has raised $75,000 for Fresh Start. To RSVP, send an email to rsvp@azspagirls.com.
Tickets to the Summer Spaaah Series events start at $75 and include a VIP reception with cocktails and refreshments, a collectible tote bag filled with goodies for mind and body, a charity raffle, mini spa services, demos and more. Event guests will also receive a "Spaaah" certificate valid toward one luxury spa treatment as well as full access to the spa amenities within 30 days of the event.
Summer Spaaah Series 2013 dates and destinations include:
Events are produced by Arizona Spa Girls and sponsored by Drybar, HINT Water, NewBeauty Magazine, So Scottsdale! Magazine, Zulu Caffe and CRAVE Phoenix. For details, visit www.summerspaseries.com.
About the Summer Spaaah Series
Founded in 2006, the events unite relaxation seekers with top spas of the Valley in the spirit of charity and celebration. The series has been honored by the Phoenix New Times as the "Best Way to Get Pampered for a Good Cause" and numerous times by the International Festivals and Events Association-endorsed APS AzTEC Awards, including 2007 Event of the Year for events under 20K participants. The event has raised more than $56,000 for Fresh Start Women's Foundation, a Phoenix-based organization that assists women in transition. The annual series is produced by Arizona Spa Girls, the premier guide to Arizona relaxation and beauty destinations. Details at www.summerspaseries.com.
About Arizona Spa Girls
Arizona Spa Girls is a chatty, informative guide to Arizona spas, salons, beauty and wellness. Launched in October 2002, the website and its team of passionate spa advocates have since become the voice for a new generation of spa-goers. Deeply committed to making the spa experience more accessible, the site offers exclusive spa and salon deals, beauty product reviews, do-it-yourself home spa treatments, a lively collection of articles that span the beauty and health worlds, and practical tips on making the most of your spa experience. Useful, entertaining and laced with sense of frivolity, AZSpaGirls.com is your little pink book to looking and feeling your best. More at www.azspagirls.com.
About Fresh Start Women's Foundation
Fresh Start Women's Foundation is dedicated to empowering women through the services of the Jewell McFarland Lewis-Fresh Start Women's Resource Center in Phoenix, Arizona. Funds raised from this event support Fresh Start's Self Esteem services as well as other empowerment initiatives at Fresh Start. More at www.phoenix.wehelpwomen.com.