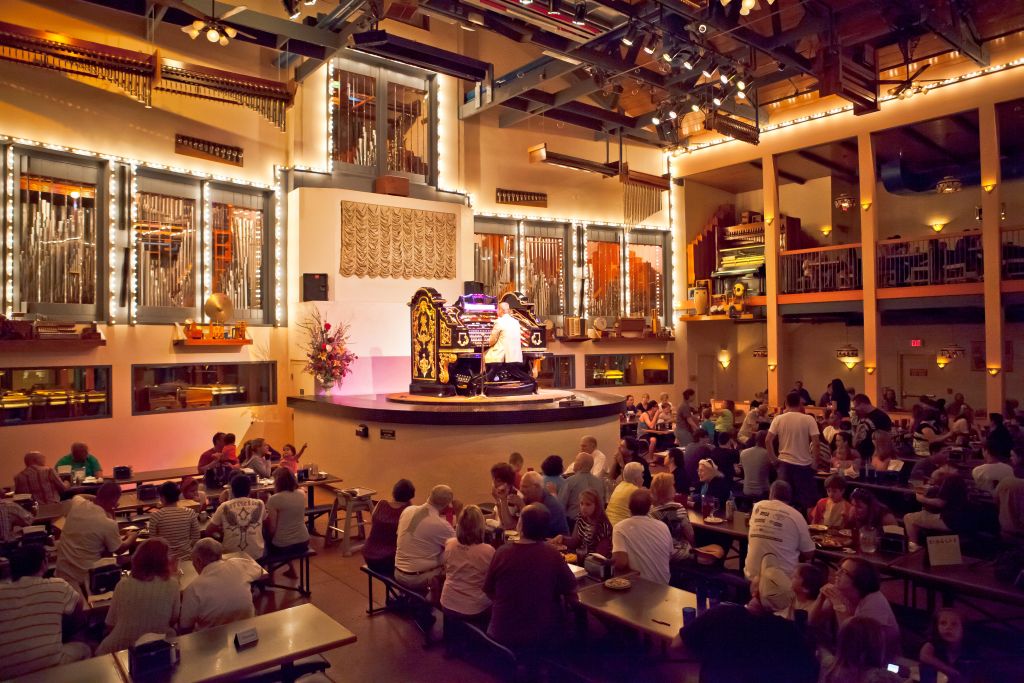 This is a rare opportunity to have lunch at Organ Stop Pizza…all proceeds to 100 Club. This will be a very family-friendly event, so bring the whole gang! 
Mac and Gaydos, afternoon talk show hosts on News Talk 92.3 FM will emcee!
Musical, community-oriented event raises funds and awareness for the 100 Club of Arizona
Mesa, Ariz.—When safety officials in Arizona make the ultimate sacrifice, the 100 Club of Arizona is there to help their families pick up the pieces by providing support when they need it most. In honor of the 100 Club of Arizona, Organ Stop Pizza will host an appreciation luncheon from 11:30 a.m.-2 p.m. on Sat., Aug. 24. The event is open to the community to come out and learn more about the nonprofit and support its efforts.
At the Afternoon of Gratitude Musical Luncheon, locals can learn more about the 100 Club of Arizona from 100 Club staff about the history of the 45-year-old Arizona nonprofit, including ways to volunteer and get involved. There will also be a silent auction and 50/50 raffle with great prizes benefiting the 100 Club. And, of course, patrons can expect a delicious pizza buffet, salad, ice cream and music performed on the Mighty Wurlitzer organ.
"As an Arizona business, we wanted to host an event that would help the community connect with the 100 Club, an organization that does so much good for our safety officials and their families," said Jack Barz, co-owner of Organ Stop Pizza. "This will be a patriotic, community-oriented luncheon that we hope raises awareness and much-appreciated funds for this amazing nonprofit."
Tickets for the Afternoon of Gratitude Musical Luncheon are now on sale at OrganStopPizza.com for $15 for adults and $10 for kids ages 10 and under. They will be sold for $20 at the door on Saturday, August 24 if the event is not sold out.
About Organ Stop Pizza: Organ Stop Pizza has been a Valley favorite for more than 40 years. Home to the nation's largest Wurlitzer pipe organ, the unique pizza restaurant is a favorite entertainment destination for all ages. Along with pizza, they offer pasta, appetizers, salad, ice cream and beer/wine and soft drinks. Their professional organists play everything from Bach to rock to crowds of up to 700 people every night. They are a cash or check business; no debit or credit cards are accepted but an ATM is available in the lobby. Organ Stop Pizza is located at 1149 E. Southern Avenue in Mesa. For more information, visit www.organstoppizza.com or call 480.813.5700.
About the 100 Club of Arizona: The 100 Club of Arizona is a nonprofit organization that provides financial assistance to public safety officers and firefighters when they are seriously injured or killed in the line of duty, and provides resources to enhance their safety and welfare. It was started in 1965, became a 501(c)(3) in 1968, and has given more than $7 million in financial support to Arizona's men and women who stand behind the badge. For more information, log on to www.100club.org or email info@100club.org.