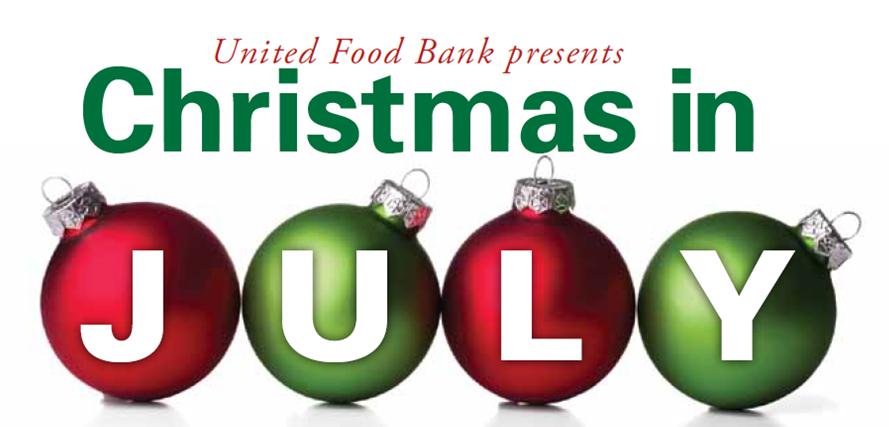 Bring in two approved "non-perishable" food items to Organ Stop Pizza between July 1 and 31st, 2013 and receive 10% off your entire food bill that evening while enjoying The Mighty Wurlitzer Organ and delicious pizzas!
Christmas in July is an annual food drive in the summer that aims to help stock United Food Bank's shelves. Summer is the hardest time of the year for many individuals and families in Arizona. Kids are out of school, meaning parents have the added pressure of providing more food. Temperatures rise, making electric bills higher- forcing families to make tough decisions like choosing between paying bills or paying for food. With your help, we will be able to continue to help our neighbors who struggle daily for food this summer. Because of you, meals will be delivered to senior citizens, fewer children will go to bed hungry, and many parents will worry less.
For more information about United Food Bank, visit www.unitedfoodbank.org or contact Melissa Forrester at mforrester@unitedfoodbank.org or by phone at 480-398-4464.
Organ Stop Pizza co-owner, Jack Barz said "When you drop off donations for this food drive in July you will be able to step out of the triple digit temps into the spirit of the holidays. We'll deck the Mighty Wurlitzer, staff and walls with a Christmas feel. Jingle all the way to OSP and help a worthy cause!"
Organ Stop Pizza will match cash donations up to $5000 from customers. In addition, Lew Williams Christmas CD "Holiday Pipes" will be on sale for $14. For each copy that is sold in July, $2 will be donated to United Food Bank.
Organ Stop Pizza has been a Valley favorite for more than 40 years. Home to the nation's largest Wurlitzer pipe organ, the unique pizza restaurant is a favorite entertainment destination for all ages. Along with pizza, they offer pasta, appetizers, a salad bar, ice cream and beer/wine and soft drinks. Everything from Bach to rock is played by their professional organists to crowds of up to 700 people every night. They are a cash or check business. No debit or credit cards accepted but an ATM is available in the lobby.
Organ Stop Pizza is located at 1149 East Southern Avenue in Mesa, AZ 85204 (SW corner of Southern/Stapley). Their phone is (480) 813-5700. For more information, go to www.organstoppizza.com
Most needed items are:
* Cash Donations * Peanut Butter
* Canned Meat * Canned Fruit & Vegetables
* Cereal-Whole Grain, Low Sugar
* Soup, Stews, Chili, Beans
* Milk-Canned/Dried * Rice and Pasta
Please, no glass jars, baby food, or opened food