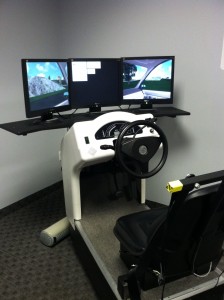 The Red Means Stop Traffic Safety Alliance is pleased to announce our Novice Teen Driver Scholarship Program for 2014.  The program was developed by Red Means Stop and the nationally acclaimed DrivingMBA of Scottsdale, Arizona.  DrivingMBA utilizes a unique combination of classroom instruction, simulation labs, and on-road instruction.  The school also provides a class for parents to be better prepared for the practice that is necessary to become a safe and responsible driver.
Red Means Stop continues to advocate for better training and education, especially for new teen drivers. "If we expect our children to grow into safe drivers when they reach adulthood, neglecting the basics as teens is a huge mistake. Many of today's adults never faced the challenges our teens currently face on the road. Traffic conditions are far worse and the distractions are greater than ever before. We owe it to the next generation to be prepared and the best way to do that is by arming these young drivers with the best skills possible to help save their lives" said Frank Hinds, Executive Director of Red Means Stop.
"The simulators really teach you to pay attention to your surroundings and to look ahead and be prepared" said Cameron Jordan a graduate of last year's program.  Tammy Messmer, the mother of another scholarship recipient stated "I'm a single Mom and knowing that this opportunity was available for my daughter made me feel better about her driving".
This scholarship is offered to teens whose families might not otherwise be able to afford the unique, thirty-five hour training program. This year's driver training program is being funded in part by grants and donations from the State Farm Insurance Company, AAA Arizona and the Thunderbird Charities.
To learn more and request an application, go to www.redmeansstop.org/scholarship.
SCHOLARSHIP APPLICATION REQUESTS WILL BE ACCEPTED FROM MARCH 15 – APRIL 30, 2014
These scholarships are specifically earmarked for, and will be awarded to families who demonstrate an economic hardship and cannot afford driver training for their student.
In order to be considered for a Red Means Stop (RMS) driver training scholarship the student must be eligible for their learners permit within a 3 month window (student must reach the age of 15 years and 6 months within 3 months of receiving the request for application)