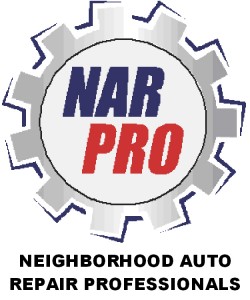 Putting the Brakes on Breast Cancer
Valley Auto Repair Shops Offer Freebie, Provide Donations to Vaccine Research

(PHOENIX)– It's not your typical breast cancer awareness campaign. Dozens of locally-owned, neighborhood auto repair shops (including allNARPRO shops) are joining forces to raise money for a promising breast cancer vaccine. While Arizona is part of a national campaign, our state stands out for having the most independent shops participating.
All proceeds from the 'Brakes for Breasts' campaign will go directly to the Cleveland Clinic Breast Cancer Vaccine Research Fund. Not a penny will be spent on administrative or marketing costs. The vaccine, developed at the Cleveland Clinic's Lerner Research Institute has been shown to prevent breast cancer in laboratory mice. 

"The idea of eliminating breast cancer, as we've seen happen with polio in the United States, is exciting, " says RaeAnn Hayward, NARPRO.com board member. "We are grateful to play a role in this revolutionary research."

During the month of October, at least 30 locally-owned shops from across Arizona will join more than 100 other independent shop owners in 26 states in the 'Brakes for Breasts' campaign. Customers will receive free brake pads (up to $80 retail value) when scheduling a brake service in October. Customers will pay labor and any additional parts while each shop donates 10 percent of every brake service to the Cleveland ClinicBreast Cancer Vaccine Research Fund. The 'Brakes for Breasts' program, which started in 2011, with five shops in Ohio, hopes to raise $100,000 this year. 

You can also follow the campaign's progress or find a shop near you at www.brakesforbreastsAZ.org. 

A majority of the shops participating belong to NARPRO (Neighborhood Auto Repair Professionals): The Neighborhood Auto Repair Professionals (NARPRO) helps car owners find skilled and honest car repair shops. NARPRO only recommends independent, family-owned, full-service auto repair shops that have passed 26 rigorous tests. Visit www.NARPRO.com to find recommended shops near your work or home. NARPRO is the easiest way to find an honest mechanic in the Valley.