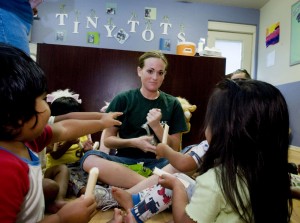 Mesa, Ariz.—When children in the Valley need a refuge from an abusive atmosphere, the Child Crisis Center is there to offer a home, safety and encouragement. To honor and support the Center's efforts, Organ Stop Pizza will host a Musical Baby Shower luncheon from 11:30 a.m.-1:30 p.m. on Sat., Oct. 19. The event, which is open to the public, is a chance to learn more about the Center and bring a baby shower gift to help kids at the 42-bed emergency shelter.
At the Musical Baby Shower luncheon, locals can learn how the Center supports children from ages 0 to 11 years who are victims of some type of trauma at home and about the Family Resource Center that provides free local parenting classes. For $5 and a baby gift, customers can enjoy pizza, salad and soda while listening to music performed on the Mighty Wurlitzer organ. The Center needs items for tiny tots such as bottles, sippy cups, diapers, wipes, DVDs, toys, blankets and clothes. If you choose not to bring a gift, tickets can be purchased for $10. Purchase tickets here.
"The Child Crisis Center is so much more than a local charity," said Jack Barz, co-owner of Organ Stop Pizza. "They've been there to help children and families in need and are a great resource for the entire community. We hope that with this luncheon and the month-long donation drive, we can bring in some much needed items for the Center while raising awareness for this important part of our community."
To help gather toys, arts and crafts for the Center, the public will also be able to drop off items at Organ Stop Pizza the entire month of October and get 10 percent off their meals. Patrons can drop off puzzles, board games, dress up costumes, board books, Lego® blocks, make-believe toys such as tool sets and kitchens, glue, markers and craft supplies. For a complete list, visitwww.organstoppizza.com.
About Organ Stop Pizza: Organ Stop Pizza has been a Valley favorite for more than 40 years. Home to the nation's largest Wurlitzer pipe organ, the unique pizza restaurant is a favorite entertainment destination for all ages. Along with pizza, they offer pasta, appetizers, salad, ice cream and beer/wine and soft drinks. Their professional organists play everything from Bach to rock to crowds of up to 700 people every night. They are a cash or check business; no debit or credit cards are accepted but an ATM is available in the lobby. Organ Stop Pizza is located at 1149 E. Southern Avenue in Mesa. For more information, visit www.organstoppizza.com or call 480.813.5700.
About the Child Crisis Center: The Child Crisis Center (the Center) now operates a 42-bed emergency shelter for abused or neglected children ages 0 – 11 years old. During their stay at the shelter, children attend school, receive tutoring, participate in field trips and activities and see Master's level counselors that specialize in 0 – 11-year-old victims of trauma. The Center also runs an adoption and foster care agency that recruits, trains, licenses and supports foster and adoptive parents and families. In order to break the cycle of child abuse and neglect, the Center created the Family Resource Center (the FRC) 15 years ago. The FRC provides parenting classes to the community for free and offers them both in English and Spanish. The classes help parents strengthen their skills so that when stressors affect family life, children are not harmed. Housed in the same facility as the FRC, the Center operates a family and child counseling program that helps children and families cope with trauma and strengthen family relationships. For more information go to www.childcrisis.org.